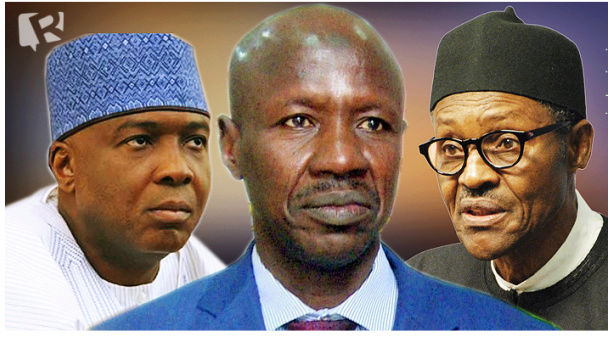 The Senate, on Monday, failed to confirm or outrightly deny claims that President Muhammadu Buhari has re-forwarded the name of the acting chairman of the Economic and Financial Crimes Commission (EFCC) for confirmation as the substantive head of the anti-graft agency.
Senate spokesperson, Sen Aliyu Sabi in a telephone interview with Ripples Nigeria, said he was not at liberty to confirm or deny receipt of any official communication from the President regarding the embattled acting EFCC boss, Magu.
Magu was rejected by the Senate on the 15th of December, 2016. The Senate based its decision on a report submitted to it by the Department of State Services (DSS).
There are currently reports, making rounds that Magu's name may have been resubmitted to the Senate by Buhari, despite strong opposition from a large number of Senators.
Sabi said: "I have nothing to claim or deny. You already know how these things are done. Whenever there is any communication from the President, it will be read on the floor of the Senate. Why can't Nigerians just wait and see if there is anything like that?
"The media is unfair to us. They must understand that we have our own way of doing things, but they always want to push us to say the wrong thing. I have nothing to say on this issue again."
Immediate-past Leader of the Senate, Senator Ali Ndume, who was one of the key lawmakers who lobbied on behalf of Magu, was sacked a fortnight ago by members of the ruling All Progressives Congress (APC) caucus in the Red Chamber.
Ndume was replaced by Senator Ahmed Lawan, who has since assumed duties in the Red Chamber.