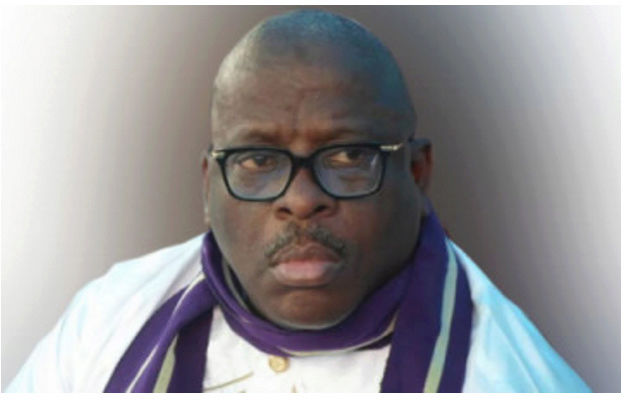 Senator Buruji Kashamu, has criticised the emergence of Ekiti State Governor Ayodele Fayose as the Peoples Democratic Party Governors' Forum chairman, describing it as a misnomer.
Bayelsa State Governor Seriake Dickson, had on Thursday night, while announcing Fayose to succeed former Ondo State Governor Olusegun Mimiko as chairman PDP Governors Forum, said the choice of Fayose was arrived at by the party based on his record of performance as well his being the party's most senior governor.
He added that the governors of PDP collectively accepted him to be their next chairman.
However, Kashamu who represents Ogun East Senatorial District in the National Assembly expressed dismay over Fayose's choice in a statement he issued in Ijebu-Igbo, Ogun State on Sunday.
He said, "It was a misnomer that the governors of an opposition party that is in need of rebranding and repositioning could chose a liability, a loud mouth and an immature politician like Fayose as the chairman of the PDP Governors' Forum.
"It is not that his emergence as the chairman of the forum means anything to me. But as a committed and loyal party man, it gives me great concern that instead of taking steps that will foster peace and unity, we are doing things that will widen the gap and cause more unity.
"Those who chose him should have a rethink in the interest of the party that is striving hard to return to power. His brother-governor, Dr. Olusegun Mimiko, whose tenure he purportedly continued as chairman of the PDP Governors' Forum, is a cool-headed and balanced character. Even then, some of us pointed out that Governor Mimiko was slippery and sly, and a traitor who could not be relied upon. What happened at the end of the day?"
Kashamu further said that the governors should have rather looked for a better educated, well-cultured, better exposed governor who is untainted and does not have a case with the Economic and Financial Crimes Commission (EFCC).
He said, "There are those who are better educated, well-cultured and better exposed who are not working against the interest of their people and country. We have Governors who have held public offices since the return to democracy in 1999 but who are untainted. The Economic and Financial Crimes Commission (EFCC) does not have any case against them. Those are the kind of people that could have been chosen to lead the Forum, not one with a goodwill deficit whose hands have been found in the public till."
According to Kashamu, Fayose's emergence will only help deepen the crisis in the party render than bring any solution to it. He accused him of playing a huge part in the present crisis rocking PDP, saying that he brought Senator Ali Modu Sheriff and sold his candidature to other stakeholders.
"How can our respected leaders stay aloof and allow this to happen when they are aware of the genesis of the crisis in the party, Fayose's and Mimiko's unbridled ambition to impose their will on the party and ride roughshod over all other stakeholders of the party in the South West.
"But when he saw that Senator Sheriff would not be pliable in his inordinate ambition to arbitrarily hand him the critical structures of the party from the South West zone to the national level, he cooked up a lot of lies and sold them to Governor Nyesom Wike of Rivers State and others in order to discredit Sheriff.
"Even now, his utterances about the lingering national leadership are a pointer to the fact that he will exacerbate the crisis. Anyone who thinks that Sheriff is not needed in the efforts to restore peace to the party must be joking. I wager that Fayose's conduct and utterances will widen the division in the party and more people will use it as an alibi to continue to defect to other parties," Kashamu said.
Kashamu's criticism of Fayose is in contrast to the position of the reputed Nigerian cleric and General Overseer of the Redeemed Christian Church of God (RCCG) worldwide, who recently recommended that other governors in Nigeria emulate Fayose.
The Ekiti State governor has been among the very few opposition members who have continued to criticise the perceived witch-hunting of the opposition by the President Muhammadu Buhari administration.