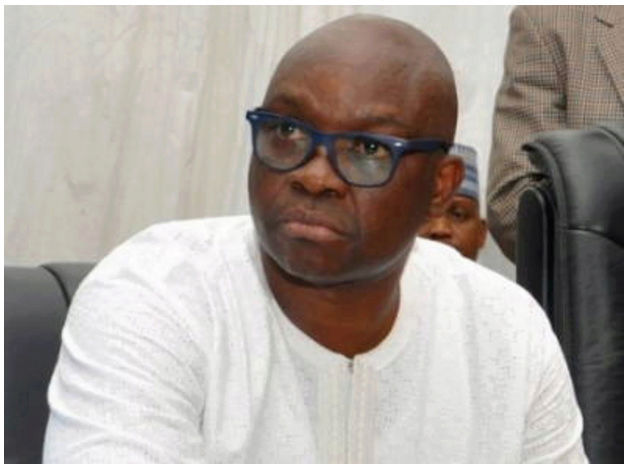 Ekiti State Governor, Ayodele Fayose, has emerged the new chairman of the Peoples Democratic Party (PDP) Governors Forum.
He has also vowed to ensure his party sacks President Muhammadu Buhari's All Progressives Congress (APC) from the seat of the presidency in 2019.
Fayose succeeds former governor of Ondo State, Olusegun Mimiko, who has served out his term as a governor.
His emergence was announced to newsmen in Abuja on Thursday night by Bayelsa State Governor, Seriake Dickson.
According to Dickson, the choice of Fayose was arrived at by the party based on his record of performance as well as him being the party's most senior governor, adding that all the governors of PDP collectively accepted him to be their next chairman.
PDP national chairman, Caretaker Committee, Senator Ahmed Makarfi, its Board of Trustee (BOT) chairman, Senator Wali Jibril and Senator Ike Ekweremadu, who took turns to speak at the occasion all endorsed Fayose's choice.
The leaders described Fayose as a true party man who would boost the growth and development of the PDP.
Fayose, who has remained the fiercest opposition critic of President Buhari's APC government, in his acceptance speech, described his election as a call to service, vowing never to let the party down.
Fayose said he was out to pull down the wall of Jericho surrounding PDP and promised he was going to embark on total mobilisation of party members nationwide ahead of the 2019 general elections.
He further assured that he will ensure that PDP works assiduously to boot the ruling party out from the seat of presidency and enthrone a well formed government at the centre come 2019.
Considered quite vocal and combative, Fayose has been severally fingered by the country's anti-corruption agency (EFCC) in alleged money laundering charges.