Have you been working online for months and could hardly make $0.50 per day or $20 per months? Have you worked for some PTC(pay to click) site and have accumulated hundreds of dollar but it has been on pending for over three months or taking forever to cash out? Have you waited for over one year to collect your pay in the process of waiting the pay to click domain subscription expired and the site was shut down or they were permanently close because the were identify as scam pay to click site or buxsite? In case you don't know i personally have experience all this in the past. First it was gain money fast. I Made over $70 by delivering traffic from this humble forum to their website. they pay $0.08 click on your affiliate link. I really focused on sending traffic to their website because, that is the only way i could grow fast as a result of sending posts to facebook twitter google plus etc. The second was mimibux: they pay as much as $1.20 per advert click and i made over $680. I tried cashing out, they told me that it was an investment site. Then i invested $20 and i cashed out 120% of the pay because for my membership it was 120% of your investment. I waited for over three months i was fed up then i started posting to their forum concerning the issue all of a sudden i was blacklisted. That was how my $680 was gone. The third was Money fast maching. The minimun pay out then was $5, after i got there, i requested cash out a message appeared you need to get up to $15 on your main balance before you can request cash out.That was how i stopped for a while. I visited one of my neighbours in River State, to my greatest surprise he was working online with
neobux
.
I was mocking him on my mind because i have been scammed several times and was thinking that making money online is imposisible. Then i asked him if the site is genuine? immediately he showed me his pay out. He has worked for six months with them and has made over $850. Without hesitating i
registered
.
Neobux
is a pay to click site with over hundred million registered members, and has been in the business for nine years. They offer several opportunities
for making reasonable amount of cash per day. You can make money by clicking ads doing mini jobs from Crowdflower getting coins which can be converted to cash and points from offer wall. You can also click ads prize and win cash ranging from $50-$0.25 points from 10,000-10 and a golden membership worth $90 for a year. Their payment is instant, with the following processors
skrill
,
paypal
,
payza
and
neteller
. I have made over $1700 in just nine months from
Neobux
. I sold over $1100 to standard gold via BBM and over $660 to
Nigeria Gold Exchange
via their website. I stopped selling to standard gold, because i could not keep record of the transactions for reference purpose. That was how i started selling to nigeria gold exchange. Below are my transactions on
Nigeria Gold Exchange
on payza
If you are interested just
sign up
.
The second is
clixsense
. I call it the queen of ptc website because it has the same features like
neobux
in
clixsense
you earn by taking surveys, completing offers, doing mini jobs clicking ads and clixgrid. Below is my account details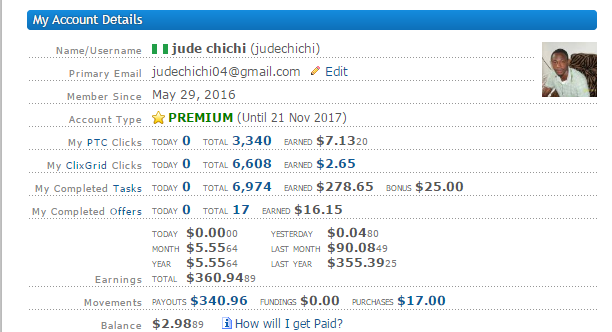 Thank you viewers and God bless you as you
join